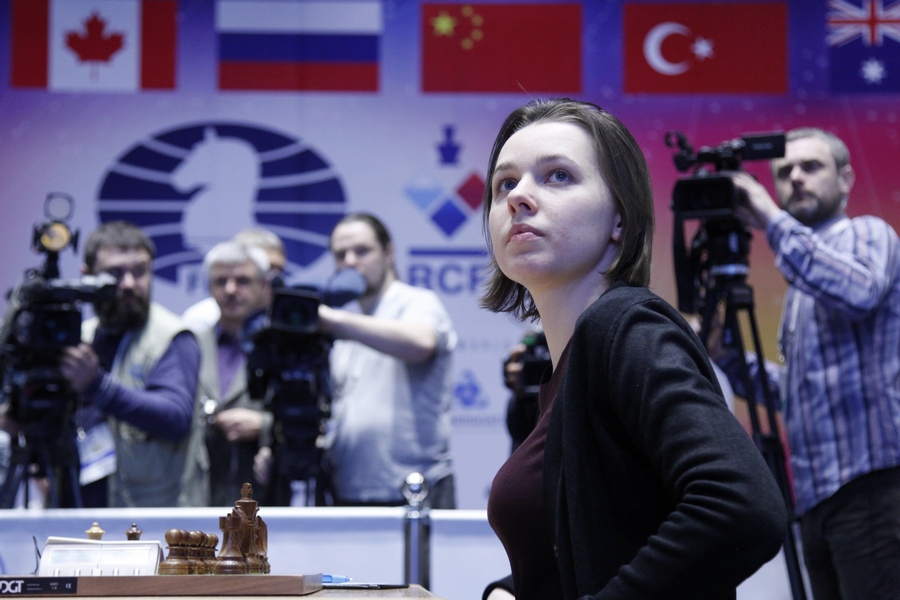 Mariya Muzychuk (Ukrainian player, born September 21, 1992) is the 15th Women's World Champion.
Maria was born in the family of professional chess trainers, Natalia and Oleh Muzychuk. She started playing chess at age of 2 and participated in the first chess tournament at age of 5. Maria has an older sister, Anna Muzychuk, who is also one of the leading chess players.
She was granted the title of Grandmaster after her victory in the 2015 Women's World Chess Championship, which was held from March 17 to April 7, 2015 in Sochi, Russia.
Two-time champion of Ukraine (2012, 2013). As a member of the Ukrainian national women's team, winner of the World Team Championship in Astana (2013) and European Championship in Warsaw (2013), bronze medalist in the World Chess Olympiads (Istanbul 2012 and Tromso 2014).
She made it to the top-16 in the 2010 Women's World Chess Championship, but lost to Harika Dronavalli in an Armageddon playoff after a tie in the regular match.
World Champion Title:
In the first round of Women's World Championship in Sochi, she drew with Yuanling Yuan (Canada) in the classical games and then defeated her in the tiebreaks.
In the second round, she drew with Monika Socko (Poland) in the classical games and defeated her also in the tiebreaks.
In the third round, she eliminated former Women's World Chess Champion Antoaneta Stefanova in the classical games by a score of 1½–½. In the quarter-final she outplayed number one seed Humpy Koneru (India) in the tiebreaks (2½–1½), and then beat Harika Dronavali (India) in the semi-final by tiebreaks (3½–2½). In the final she won against Natalia Pogonina (Russia) with a score of 2½–1½.
As a result of her victory, she qualified for the 2015 Chess World Cup to be held in Baku, Azerbaijan. She was paired with British GM Michael Adams. She held Adams to a draw in the first game but lost the second one.
She is expected to defend her title against former World Women's Champion Hou Yifan in the Women's World Chess Championship Match which will take place from 1st to 18th of March, 2016 in Lviv (Ukraine). As the winner of the Grand Prix, Hou Yifan is allowed to challenge Mariya Muzychuk.